..."Junglebook Spins"...
_February 21st, 2006_
-Pirate Cat Radio 87.9-
with your host, Mr. D.J.
---> Junglebook <----
4 hours tonight! 3 to 7!
(...Jungle sounds intro...)
Dave Edmunds / "I Knew the Bride"
The Dead Kennedys / "Take This Job and Shove It"
The Church / "Under the Milky Way"
Elvis Costello / "The Angels Wanna Wear My Red Shoes"
Debbie Harry & Iggy Pop / "Well Did You Evah? (What a Swell Party This Is)"
XTC / "Living Through Another Cuba"
Black Flag / "Wasted"
Ministry / "NWO"
Erasure / "Take a Chance"
Cocteau Twins / "Carolyn's Fingers"
Gang of Four / "Anthrax"
Baldo Rex / "Buffalo Messiah"
Squeeze / "Cool For Cats"
David Bowie / "Real Cool World"
The Donnas / "Midnight Snack"
Peaches / "I U She"
Peaches and her dancers...
Bloom / "Radioland"
GG Allin / "Gimme Some Head"
Sparks / "I Predict"
The Rev. Horton Heat / "You Can't Get Away From Me"
Killing Joke / "Pandemonium"
The Yeah Yeah Yeahs / "Miles Away"
Echo and the Bunnymen / "Never Stop"
Noam Chomsky vs. George H.W. Bush / "Saddam Was Our Boy"
Sonic Youth / "100%"
Lou Reed / "Sweet Jane" {live}
Klaus Nomi / "Lightning Strikes"
Cheap Trick / "Waiting For the Man - Heroin" {live}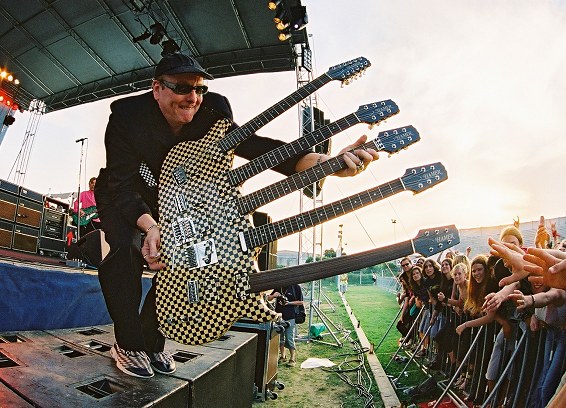 Graham Parker / "Waiting for the UFOs"
Tom Robinson / "Glad to be Gay" {live}
The Lime Spiders / "Slave Girl"
Gary Numan / "This Wreckage"
The Donnas / "Dancing With Myself"
Billy Idol / "L.A. Woman"
Devo / "Jerkin' Back and Forth"
(...Fascist update: uproar over UAE ports deal...)
Public Image, Ltd. / "Brave New World"
The Young Brandos / "It's Too Long"
The Exploited / "Sid Vicious Was Innocent"
Jerry Falwell vs. Throbbing Gristle / "Jerry Skids" vs. "Exotica"
Bruce Wooley and the Camera Club / "Video Killed the Radio Star"
The Wendy Kroys / "Bike Messenger Boy"
B-52s / "Your Own Private Idaho" {party mix}
Blue Movie w/ Unkle G'Joob / "Our Cultural Mission"
Brian Eno and David Byrne / "Jezebel Spirit"
Blancmange / "Living on the Ceiling"
Cibo Matto / "Know Your Chicken"
Rudimentary Penii / "Radio Schizo"
Eurhythmics / "Missionary Man"
The Loud Family / "The Ballad of How You Can All Just Shut Up"
The Residents / "It's a Man's, Man's, Man's, Man's World"
thepartyparty.com / "Dick Is a Killer"
The Clash / "I'm So Bored With the USA"
Bill Nelson / "Flaming Desire"
77 el Deora / "This Record Sucks"
Yaz / "Situation" 12" remix
The Ramones / "Beat on the Brat"
A Perfect Circle / "Ashes to Ashes" {live}
Electrocute / "Sugar Buzz"
Einsturzende Neubauten / "Headcleaner"
The 5,6,7,8's / "I'm Blue"
The Buzzcocks / "Boredom"
Stan Ridgeway / "Don't Box Me In"